4.9 Stars from 284 Reviews
RealSelf Patient Reviews of Ritu Chopra, MD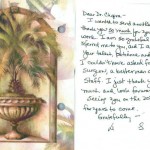 I am very grateful to have met you not just as a doctor
Dr. Chopra,
In a million years I would not have imagine the experienced I have had with my health, and the many things i needed to face. However, you have been such a blessing during all this. I am very grateful to have met you not just as a doctor, but the man too. Of course your talent & skills are off the charts! The most special though is your kindness, patience, and approach with me and I'm sure all your patients. The nature of this was extremely difficult & scary for me at times, but you have helped me overcome that in so many ways. I know we are not done yet…Thank you for your availbility too, it made time like last week much better. Just needed you to know how appreciated you are and I know I've told you many times. Let this be a reminder, not just from me, but all those you help with your gift each and everyday. I am a walking example of that gift put to use and will continue to be grateful for you today and many more to come.
Please remember to look after yourself too and take time for the things you love.
With gratitude & appreciation,
Love Angela Palmer
*Individual results may vary.
Phenomenal *****
There is no other word to describe Dr. Ordon and his professional staff. I have a smile on my face each and every time I walk through doors. These doctors have changed my life. No one seems to know I've had wokr done to my face (the look is so natural) and with the body contouring not a dat goes by without someone saying how young I look or asking what are you doing –you look so good. Thanks to Dr. Ordon and Dr. Chopra I feel good, I look amazing and no one believes I'm 67. When my children introduce me as their mother the response is she could be your sister. My results were truly above and beyond what I expected. I could not have placed myself in better hands than the hands of Dr. Andrew P. Ordon and Dr. Ritu R. Chopra.
My Sincere thanks.
Deborah Russell
*Individual results may vary.
I would highly recommend Dr. Chopra for his professional expertise
I am a BRCA Positive woman who had chemo and radiation many years earlier and decided to have a prophylactic mastectomy. After consulting with many plastic surgeons, I met with Dr. Chopra who felt my skin would be able to handle implants without a muscle flap. He throughly explained the surgical risks on a radiated breast and all of my other options.
My surgery was 100% successful and anytime I had a question or concern during my recovery, I would send him a text, and his response was always immediate.
I would highly recommend Dr. Chopra for his professional expertise and his warm and compassionate personality. He always gave me as much time as I needed. The office staff in Beverly Hills and Rancho Mirage are fabulous. I highly recommend Dr. Chopra and his staff with the highest confidence.
-Norma
*Individual results may vary.
Dr. Chopra has a caring disposition about him, and an extremely calming energy.
I vividly remember the pouring rain taking over the streets the afternoon I met Dr. Chopra for an impromptu meeting. What a ray of sunshine he was that dark chilly and rainy day…
Dr. Chopra has a caring disposition about him, and an extremely calming energy. He is thoughtful as well as honest and most of all he makes himself available to you unlike any doctor I have ever seen.
Then there is his talent as a surgeon… he has a gift. He approaches his technique with a standard of perfection, but will be conservative about results to expect in order to manage expectations. I have seen his skill tested, and relieved to share his talent superseded my overall anxiety and fear that comes with a procedure like this.
Today was my last follow up visit with Dr.Chopra and it felt weird that I would not have to return. That in turn means Dr. Chopra and his team helped get me through one if not the scariest experience of my life. This team rebuilt me outside with their technique and skills as well as inside with their attention and overall kindness.
When faced with decision to have a major surgery on a significant area of your body, the best choice I made and anyone reading this can make is to select Dr. Chopra as your surgeon.
*Individual results may vary.
Dr Chopra and his team are all remarkable.
Dr Chopra and his team are all remarkable. Undergoing a double mastectomy is a daunting experience and Dr Chopra has made the entire process a truly positive experience. I am so grateful for him and his staff and could not recommend him higher.
– Ariana
*Individual results may vary.
I was beyond impressed with my first experience at doctor Ordon's office.
I had been going to consultations for three years meeting with plastic surgeons; not shopping for the best price, but for a feeling I trusted I would get when I came across the right doctor for my facelift. Dr. Ordon is hands down one of the best in his field. Other doctors recommended added procedures to my face which left me only feeling worst. Dr. Ordon's visit made me feel comfortable and relaxed, he asked me the right questions and was patient with the many questions I had. His bed-side manner is calm, positive, thorough, attentive and personal. I was made to feel like I was an important celebrity. From the visit to his office with his beautiful staff, to the aftercare I received where I recovered after my procedure. His work was PERFECT, I say this because I am a perfectionist and he delivered. I was told there would be no noticeable scars and that is exactly what I got, in fact along the front hair line and in front of my ears, there is no scar at all. I had very little to no pain, an amazing recovery. He changed my life!!! I'm so grateful I offered to meet with any patient who might be apprehensive because after all it is the face. I want to share the amazing experience so other women can feel amazing and beautiful as all women should. I wish there were more than (5) stars, he deserves it.
*Individual results may vary.
---
Tummy Tuck & Arm Lift
I didn't know what to expect when I arrived for my evaluation for a fluer de lis tummy tuck and arm lift after a 200 pound weight loss. Dr. Chopra and the whole team made me feel as comfortable as possible throughout the whole process, from evaluation to post op care, the entire team was fantastic! I will be back someday to finish the rest of my transformation with Dr. Chopra and his team!
– 25 from Bozeman, MT
*Individual results may vary.
---
Breast Reconstruction with Expanders
"After learning I was BRCA1 +, I began my search for a surgeon to take care of the expanders and reconstruction segment following my bilateral mastectomy. I had visited a couple of Plastic Surgeons before being referred to Dr.Chopra by a close friend. From the moment I met Dr.Chopra, he gave off a very calm and reassuring energy which helped to reduce much of my fear and anticipation. He patiently explained every step of what I was about to go through, drew pictures and answered every question I had about the surgery and the healing process. He never made me feel rushed and probably spent at least 45 minutes with me on the initial consult. He offered his cell phone number in case I had any other questions and made himself completely available from that point forward (whether I decided to go to him or to another plastic surgeon)…yes, really.
His gentle bedside manner and attentiveness were beyond anything I could have expected. He check on me in the morning and at night while in the hospital and was just a text or call away.
The results that I have so far are great. He is a perfectionist with an extreme attention to detail. I am in the expander phase and can hardly wait to see my final results. I will look forward to updating once the reconstruction is complete!
Additionally, he surrounds himself with a wonderful support staff that exudes the same genuine caring and attentiveness that he does. Mandy has gone out of her way to make this experience as seemless as possible. She drove 20 miles on a Sunday of a holiday weekend (Memorial Day) to bring me something I really needed and could not wait until Tuesday to get. I tried to let her know I would be fine, but she would not take no for an answer and I am very grateful for it.
I highly recommend putting your trust in Dr.Chopra and his staff…caring, professional and attentive. You are truly in the best hands.
Thank you for being such a wonderful provider Dr.Chopra. I am grateful to have been referred to you:)"
*Individual results may vary.
---
Breast Reconstruction
"My life forever changed when I found out that I was BRCA1 positive and had an 87% risk to develop breast cancer. At the time I was a healthy, vibrant 38 year old wife and mother. I wanted to live a long and healthy life with my family so for me it was an easy decision to have a preventive double mastectomy. When I researched breast surgeons and plastic surgeons I was immediately drawn to Dr. Ritu Chopra because of his experience, charisma and energy. I feel so blessed to have Dr. Chopra as my doctor because he was by my side through the entire process. He has a kind heart, a meticulous eye and magical surgeon hands. I am so happy to say that post prophylactic surgery my risks of breast cancer is close to nothing and I can live each day of my life without the fear of getting cancer. And as an extra aesthetic bonus I now have beautiful perky breasts without the need of a pushup , which I never thought would happen again after breastfeeding two babies. My life today is celebrated daily with a sense of relief that I will never hear the two words "breast cancer." I thank my lucky stars to have Dr. Chopra as one of my forever life heroes."
*Individual results may vary.
---
Brachioplasty
"I recently had surgery on my arms. After losing over 160 pounds, I still had a lot of extra skin and fat literally HANGING from my arms and I really felt it was detracting from all the hard work I had done to lose so much weight. I had a procedure call "Brachioplasty". My doctor was Dr. Ritu Chopra and he is AMAZING. Not only is he a fantastic, perfectionistic, meticulous surgeon, but he is SO caring and kind and really makes me feel like we are in "in it together." He has really taken great care of me and has helped me to feel pretty and like my hard work has paid off. He is HIGHLY accomplished and NOT hard on the eyes.
If you have ANY plastic surgery or reconstructive needs, great or small, HE IS YOUR MAN. GO to him. He is AWESOME!"
*Individual results may vary.
---
Breast Reconstruction
"I am so extremely grateful to have met Dr. Ritu Chopra and feel blessed to have him care for me during this difficult time. After making the hard decision to have a double mastectomy following a breast cancer diagnosis coupled with strong family history, I began the daunting task of choosing a surgeon to entrust with my treatment. I never planned on having surgery outside of my hometown, Seattle, but after a consultation with Dr. Kristi Funk of Pink Lotus Breast Center and a subsequent referral and conversation with Dr. Chopra, I felt a sense of peace, and confidence in my treatment decision, for the first time since my diagnosis. Dr. Chopra immediately put me at ease, taking time to clearly explain the reconstructive process and answer all of my questions with compassion, confidence and honesty. Dr. Chopra is not only an incredibly skilled surgeon he is truly a wonderful person. From being available for questions and easing anxiety before surgery, to making me feel safe and at peace the morning of surgery, to his multiple follow up visits to check on me after surgery in Los Angeles and continued availability after I returned home (ahead of schedule), Dr. Chopra's attentiveness and compassion has been consistent every step of the way. Mandy and the rest of Dr. Chopra's team have also been wonderful, incredibly kind and efficient, and always available and willing to answer questions, making the logistics of out of town surgery very smooth. While surgery and recovery are never easy, my anticipation was definitely worse than reality and my results so far have surpassed my expectations. I give credit for this to Dr. Chopra's proactive, thoughtful approach and incredible skill and talent. I still have a ways to go until the finish line, but I have full confidence that my results will be awesome, thanks to Dr. Chopra and his wonderful team."
*Individual results may vary.
---
Bilateral Mastectomy with Expanders
"Dr Ritu Chopra was recommended to me by my cancer surgeon Dr Kristi Funk.
During my initial consultation all my options were throughly explained. This also included all the details of insurance coverage and costs. I only had to make one payment to Dr Chopra and his office took care of the remainder and dealt with my insurance company. During this stressful time it was a relief to have them completely take care of the insurance. January 2014 through April, I had appointments in both Beverly Hills and Rancho Mirage offices. Dr Chopra and his entire staff at both locations are kind,flexible and professional. I am cancer free and am 100% satisfied with my results.
Both my cancer surgeon and oncologist Cathie Chung have said my final result is excellent. Dr Chopra is a perfectionist and I am forever grateful to him and his team."
*Individual results may vary.
---
"Dr. Ordon is very concerned with making any changes look completely natural & not overdone. He made me feel very relaxed & comfortable from my first visit & I'm so glad I stuck with him. I went back for a second procedure & was equally thrilled, as with the first."
*Individual results may vary.
---
"Dr. Ordon exuded knowledge and experience during my diagnosis. He listened carefully to my concerns and with added knowledge offered me comfort and assurance of the procedure that would best suit me regarding my complications. I would recommend Dr. Ordon to everyone I know. The end result was greater than what I expected. He continued to see me post op till he knew I was happy with the final result. A truly sincere, professional and honest doctor."
*Individual results may vary.
---
"Thank you Dr. Ordon for my surgical experience and especially the outcome. I can't thank you and your staff enough for being so kind."
*Individual results may vary.
---
"Dr. Ordon is AMAZING!!! He performed a breast augmentation and rhinoplasty on me and was GREAT! Friends that I've shown my breasts say that I have one of the best breast augmentation jobs they've ever seen! Soooooo happy with the results!!!"
*Individual results may vary.
---
"After making a life altering decision to lose weight to offset a life threatening cirrhosis of the liver Stage 4 (from a fatty liver), I worked with a team of Physicians from Beverly Hills called the Khalili Center. With their support and guidance I made the necessary changes in my life to give me a new lease on life. The final stage was to remove the excessive skin that damaged my self esteem. The results of the surgery was a huge success. Dr. Ritu Chopra was a member of this team to guide me through my final stage of my recovery. I based the effectiveness of my doctors through (1) their expertise and experience in the field; (2) the interpersonal skills they have to make me feel at ease as to the decisions I need to make; and (3) the staff that supports them during any and all the procedures. My experience was so successful that I would recommend his services and those of his staff to anyone in need of his specialty. I felt part of the family/team. Although scared to go through the procedure, I would do it again in heartbeat because of the care and treatment I received, Because of this success, I am a better person and as a speaker of national reform of public schools, my energy level will bring about positive learning results to millions of children. I thank Dr. Ritu Chopra and his team of professionals for a life altering positive change. Gary D. Soto, President and Owner of Action Learning Systems."
*Individual results may vary.
---
"Dr Chopra is by far the best choice I could've made for my cosmetic procedures. He is skilled and highly knowledgeable in his areas of practice. I felt comfortable with him from the consulting phase all the way through to the completion of my procedures. He took the time to explain and answer all of my questions. He even went out of his way during the procedure to ensure that it was done properly and to an excellent standard. I will be going to him in the near future for any other procedures I will be having and I look forward to having him as my physician."
*Individual results may vary.
---
"I am so happy to have found Dr Chopra. He is not only a remarkable surgeon, but he is just a down to earth caring person. I had my face done with fat transfer, and although I was scared, he talked me through everything and now I just look like a better, fresher version of myself…..Thank God because we all have seen those disaster facelifts walking around Beverly Hills!!!"
*Individual results may vary.